Tuesday, June 16, 2009
Do you like this story?
After install Service Pack 3 on Windows XP many users would have noticed that IE Address bar is missing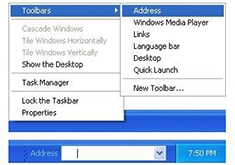 inTaskbar Toolbar options. Unfortunately this is not a bug but it has been deliberately removed by Microsoft due to antitrust ruling against Microsoft.
We are sure many Windows XP users will be missing this option however it's not impossible to get back address bar option in taskbar toolbar menu. Here we have got two solutions to get back Address bar in Windows XP
Service Pack 3.
Solution 1: MuvEnum Address Bar
MuvEnum Address Bar is the ultimate replacement for the missing address bar in Windows XP SP3. MuvEnum Address bar not only gets back Address bar option but also adds many new features including Internet Explorer, Firefox 3.x, and Google Chrome support in addition to a system-wide hotkey.
Screenshot of MuvEnum Address Bar

Solution 2: Replacing Browserui.dll System23 file
In this method you need to copy the file browseui.dll from your original Windows XP or Windows XP SP2 disk into C:\Windows\system32 folder replacing the newest version of the file installed by Windows XP SP3.
You can download browserui.dll from here and replace it with new browserui.dll in system 32 folder and you should get back Address bar option in Taskbar.
This post was written by: Author Name
Author description goes here. Author description goes here. Follow him on Twitter