Monday, July 6, 2009
Do you like this story?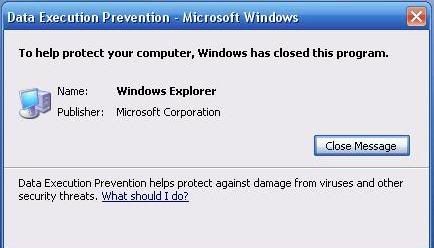 Problem:
Data Execution Prevention – Microsoft Windows
To help protect your computer, Windows has closed this program.
Name: program name
Publisher: program publisher
Data Execution Prevention helps protect against damage from viruses or other threats.
Solution:
To avoid this behavior, contact your program vendor to see if an update is available that enables that program to work correctly with DEP. If not you can use the workaround below:-
If your computer is set to apply DEP to all programs and services, the DEP error message will have a Change Settings button.
When you receive the error message that is mentioned in the "Symptoms" section, click Change Settings.
Click to select the check box next to the program, and then click Apply.
When you are prompted to restart your computer, click OK two times, and then restart your system.
You can also add an exception for the program by using System Properties in Control Panel. To do this, follow the steps below:
Click Start, click Run, type sysdm.cpl, and then click OK.
Click the Advanced tab, click Performance, and then click Settings.
In Performance Options, click the Data Execution Prevention tab, and then click Add.
In the Open dialog box, locate and then click the program.
Click Open, click Apply, and then click OK. When you are prompted to restart your computer, click OK.
When your computer is configured to turn on DEP for essential Windows programs and services only, you cannot add an exception for a program. Also, if the DEP error message continues to appear, a program may be installed that extends Windows functionality. This program may be installed so that it causes a DEP problem in an important Windows program or service.
If this behavior is recent and has not occurred before, you may be able to prevent the DEP error message by removing recently installed programs.
or
Right-Click on My Computer>Properties
Click on Advanced>Settings [Settings under Performance Section]
Click on Data Prevention Execution Tab
Select "Turn On DEP for all programs and services except those I select" option which is the second option
Then click on "Add.." button, browse and locate explorer.exe [c:\WINDOWS\explorer.exe]
Click on Apply then click Ok to save changes.
This should solve your problem. All the best!

This post was written by: Author Name
Author description goes here. Author description goes here. Follow him on Twitter